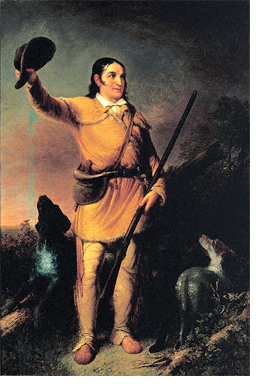 David "Davy" Crockett  remains one of the best-known American folk heroes.  Although commonly referred to in popular culture as "King of the Wild Frontier", he was so much more.  He served as a Congressman, representing Tennessee.  He was also a key figure in the Texas Revolution, and died heroically at the Battle of the Alamo.
Crockett gained his reputation as an outdoorsman and adventurer growing up in eastern Tennessee.  His larger-than-life exploits were chronicled during his own lifetime and continue to this day to be celebrated in American culture.  After serving as a colonel in the Tennessee militia and in a stint in the state legislature, he was elected to the U.S. Congress in 1826.   During his tenure in Washington, Crockett was initiated into Freemasonry and became a Master Mason.
Although initially elected to Congress as a staunch supporter of President Andrew Jackson (also a Freemason), Crockett came to oppose several of Jackson's initiatives, which eventually caused him to lose his seat in Congress due to the popularity of the president.
Not one to retire quietly, Crockett immediately took up the cause of Texas independence, and set out with a company of men from his Tennessee home in November of 1835.  Before leaving, he entrusted his Masonic apron to his local lodge, where it remains to this day.  His daughter Matilda later recalled the last time she saw her father: "He was dressed in his hunting suit, wearing a coonskin cap, and carried a fine rifle presented to him by friends in Philadelphia . . . He seemed very confident the morning he went away that he would soon have us all to join him in Texas."
This, unfortunately, was never to be.  Crockett arrived in Texas after a two month journey and immediately enlisted as a volunteer.  Just a few short weeks later, he arrived at the Alamo in San Antonio just before the epic battle against the Mexican army of Santa Anna laid siege.   Davy Crockett lost his life in that battle along with scores of other brave men – many of them Freemasons.
Davy Crockett lived his life as the embodiment of the American spirit of freedom and justice.  Although his life was cut tragically short, his legend shall endure forever.